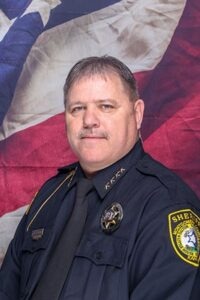 Ron Wade is the Montgomery County Sheriff.
The Sheriff serves a four year term, oversees the operation of the Department of Corrections and the County Jail. The Sheriff's office serves warrants and court orders issued through the District Court.
Coffeyville 620-251-3500
Independence 620-330-1000
Emergencies 911
The Sheriff's Office is dedicated to training and maintaining an effective law enforcement team that will best protect the citizens of our county. They work closely with other agencies in our county to provide patrol, investigative, and technical services. Sheriff Wade believes in building effective and open partnerships with citizens in the county to provide more responsive services to everyone.
The Sheriff's Office has two locations, with offices located in Coffeyville and Independence.
The office hours in Coffeyville and Independence are 8:00 a.m. to 5:00 p.m. After hours calls should be made to the Independence office.
The Department of Corrections office is available from 8:00am – 5:00pm. The telephone number is 620-330-1240