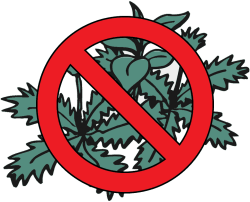 The purpose of the Montgomery County Noxious Weed Department is to eradicate weeds which have been deemed noxious by the State of Kansas and/or Montgomery County.
To aid County residents with the control of noxious weeds, chemicals may be purchased from Montgomery County Noxious Weed, 112 N. Wald, Independence, KS, Monday – Friday between 2:30 pm and 3:30 pm.
If you have any questions regarding noxious weeds and/or chemicals, please call Noxious Weed at (620) 331-4139.
Accepted forms of payment include check or cash. Credit and debit cards not accepted.
Noxious Weeds List (for Montgomery County)
Bur Ragweed (Bursage) (Ambrosia grayii)
Canada Thistle (Cirsium arvense)
Field Bindweed (Convolvulus arvensis)
Hoary Cress (Cardaria draba)
Johnsongrass (Sorghum halepence)
Kudzu (Pueraria lobata)
Leafy Spurge (Euphorbia esula)
Multiflora Rose (Rosa multiflora)
Musk Thistle (Carduus nutans)
Pignut (Hoffmannseggia densiflora)
Quackgrass (Agropyron repens)
Russian Knapweed (Centaurea repens)
Sericea Lespedeza (Lespedeza cuneate)